(2nd Round NM – Flint-Sandefjord Football 1-5)
Only Franklin Daddy's Boy Nyentue was left from the team that beat Viking in Stavanger last Sunday. Nevertheless, the coaching duo had picked out a strong and hungry SF team – which decided early on against Flint. The division team from Tønsberg was in the second round for the first time in history. And there was an abrupt stop. Quite early on, it turned out that there was a class difference. Our boys led 2-0 after 13 minutes of play – and the match was in reality decided.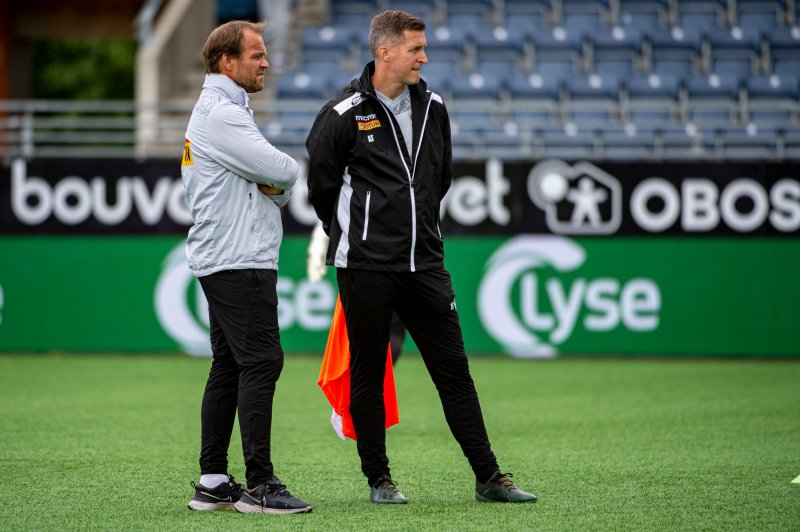 The one who opened the ball after 10 minutes was young Vetle Walle Egeli – he took the initiative for a triangle – which he calmly placed behind Flint goalkeeper Kim Bjørkesett. He got busy this fine evening at Flint Esso Arena – but Kim did well. – It is a tight program during the day – recently I have played three G-18 internationals in Portugal – and now 90 minutes here. BUT this is what I like best. I think it's a good day – and now I'm looking forward to training with the A-team here in Sandefjord. Now there are no international matches until September. Vetle Walle Egeli is developing well. And he's only 17 years old. We are lucky to have him in blue….
When Davyer Vega performed his parade number – pulling to the left with subsequent "surgical" precision – it was over. This happened after 13 minutes of play. Then we got today's bomb a few minutes later. Franklin thumped on the spot after a Flint clearance – and it said bang. An incredible volley-scoring from the lively Trøndelag. At the break it was 3-0 – and our boys relaxed a bit in the last half. It seemed we had full control.
A bit of excitement – at least the home crowd thought it was – when Wally Njie reduced a bit in the second half. BUT shortly after, Keanin Ayer was in front of goal – and swept in number four. The ball changed direction on a defender – and our friend Kim Bjørkesett was chess dull. And when Ofkir chose a solo raid – taken from the top shelf – it was over. Youssef Chaib stood in the starting lineup, but noticed some murmur in the thigh during warm-up. – I took no chances, but am ready to play against Tromsø. No danger. Sir Youssef Chaib. And there was no danger in yesterday's cup match against Flint.